11
« Last post by R on June 20, 2018, 12:02:56 PM »
That chrome oil tank on the crocker scout looks to be BSA, widely used 1939 into the 60s.
Surprisingly tough to find a good view of one.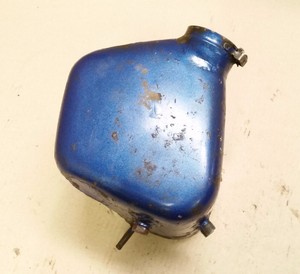 You know, I have half a suspicion that frame might be norton.
The plunger units look to be slightly slanted forward, and the central axle mounts look to be alloy,
and the frame tube meeting the plunger casting is higher up, and the plunger business is not waisted in the middle, and the muffler mounting point just ahead of the alloy part are all more Norton than Scout ?
Even the centre of the chrome back rim is painted black, ala 40s Norton ?
That might make the tank Norton too ? Not impossible, its tough to see the tank cap clearly though, that would make it hinged...
Hopethishelps !